Toshiba is expanding its lineup of of ultra-small, energy efficient application processors for wearable devices that sense, process data and transmit them wirelessly.
The Japanese company is launching the "TZ1001MBG," the latest addition to its ApP Lite family.
There is a growing interest in services that monitor activity levels and durations, as tools to help prevent lifestyle diseases, promote exercise and improve nutrition. These services are lately offered through wearable devices.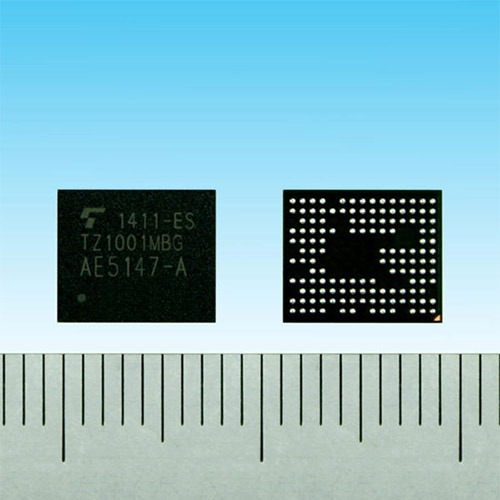 Toshiba's new application processor is a single package that integrates an accelerometer, a processor to handle the data acquired by the sensor, flash memory to store data, and a Bluetooth Low Energy controller for low power communication.
The product integrates high resolution ADCs that can convert analog signals from external sensors, such as pulse wave and electrocardiogram (ECG), into digital data.
It uses an ARM Cortex-M4F with DSP and floating point processing unit to proscess data from multiple internal and external sensors.
The processor has also a low power consumption design, offering wearable devices long battery times.
Toshiba is also expanding the line-up of its TZ1000 series by developing "TZ1011MBG", which adds a gyroscope and a magnetometer to the package.
Toshiba will satart sampling the TZ1001MBG in May, with mass production scheduled to start in September, 2014.
Main Specifications:
Model: TZ1001MBG
CPU: ARM Cortex-M4F 48MHz
Communication: Bluetooth Low Energy controller
Sensor: Accelerometer
Flash Memory Size: 8Mbit
I/O: USB, SPI, I2C, UART, 12bit ADC, 24bit Delta-Sigma ADC