Samsung Electronics announced today that its 1.6 terabyte (TB) non-volatile memory express (NVMe) solid state drive has been released to manufacturing partners. Samsung is the first in the world to ship PCIe (Peripheral Component Interconnect Express) SSDs using an NVMe protocol. The 1.6TB, 2.5-inch, SFF-8639 NVMe PCIe SSD provides a sequential read speed of three gigabits per second, while being able to process random read data at up to 750,000 IOPS (input output operations per second), which is more than three times as fast as conventional high-end SAS 12Gbps SSD storage options.
Samsung's 1.6TB NVMe PCIe SSD also processes 25 percent more IOPS per watt than 12Gbps SAS SSDs. In addition, its "power loss protection" capability ensures that data issued by the host system can be written to storage media without any data loss in the event of a sudden power failure.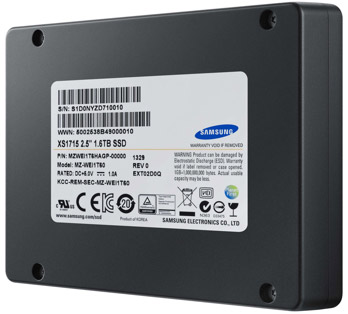 The first product to ship with the new technology is the Dell PowerEdge R920. Standalone drive prices and availability are not yet available.