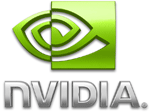 Nvidia's new GPU 800M series of mobile GPUs have been officially released, promising to bring high-quality gaming and energy efficiency to laptops.
The new series includes the GeForce GTX 860M, 850M, 840M and 830M GPUs, which are up to 60 percent faster and consume significantly less power than their predecessors, mainly due to their Maxwell architecture.
Nvidia has already shipped desktop GPUs based on Maxwell and their massive performance-per-watt increases seems to also be good on the mobile side.
The 850M has 640 cores and is 60 percent faster than its predecessor, the 750M, which shipped around the same time last year, according to Nvidia. The 860M has 1152 cores and is 40 percent faster than the older 760M.
The company also shipped the GTX 870M and 880M high-end graphics processors, which are based on the older Kepler architecture but have been clocked up to serve the needs of enthusiast laptops.
The 870M has 1344 cores and is 30 percent faster than the 770M, while the fastest performing 880M has 1536 cores and is 15 percent faster than the 780M.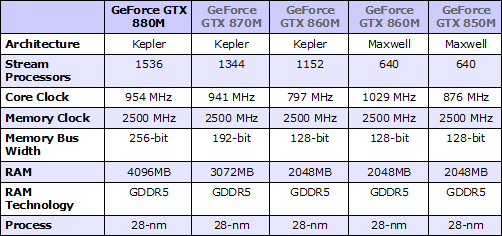 The new GPUs support Nvidia's Battery Boost feature, which delivers up to double the gaming battery life, automatically. Instead of the notebook pushing every component to its max, Battery Boost targets a user defined frame rate, such as 30 FPS. The driver level governor takes over from there, and operates all the system components, including CPU, GPU, and memory at peak efficiency, while maintaining a playable experience.
Battery Boost will require the use of NVIDIA's GeForce Experience (GFE) software, which offers various settings and GFE game profiles for plugged in and battery power settings. Users will be able to customize the settings for each game within GFE.
Battery Boost works with the new 800M GPU, meaning that it's not a purely software driven solution.
The GTX 880M will power Dell's Alienware 17, MSI's GT70 and Asustek's G750 17.3-inch laptops. The GTX 870M will be in Razer's Blade Pro and Blade laptops, while Lenovo's Y50 and Gigabyte's P34 will have the Maxwell-based 860M GPU. MSI will be also offering the G750JZ, G750JM and G750JS laptops with Nvidia GTX 880M, 870M, 860M GPUs.
The new laptops will be able to record gameplay through ShadowPlay and broadcast live or uploaded to the Twitch.tv interactive gaming website.
The feature will be automatic - unplug and the Battery Boost settings are enabled; plug in and you switch back to the AC performance mode. However, users will not be able to switch settings on-the-fly while their game is running.
According to Nvidia's benchmarks, Assassin's Creed IV, Black Flag and Arkham Origins can be played at a 1080p resolution with the 850M and 860M, and at more frame rates per second with 870M and 880M. The 860M, 870M and 880M can also render graphics at a 4K resolution of 3840 x 2160 pixels.
Nvidia also measured 2 hours and 11 minutes of gameplay time for Borderlands 2 at 30 frames per second and a 1080p screen resolution on a laptop with an 860M, almost twice the battery life compared to predecessors.