The tablet market is pretty crowded these days with numerous companies duking out for a piece of the action. While Android-based tablets have been taking up the lion's share of the market, HP has yet to launch any true "breakthrough" products in the sector.
And given today's "stealth" launch of the new HP 8 1401, which was noticed by Phone Arena, it appears that HP still isn't ready to put much effort into the category. The tablet is equipped with a quad-core Allwinner A31 ARM processor paired with a scant 1GB of RAM. The tablet comes with 16GB of internal storage, although it can be expanded thanks to its microSD slot (up to 32GB).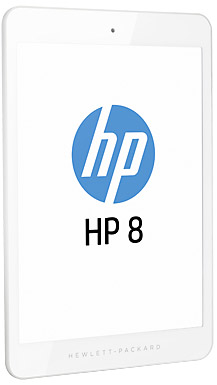 The budget-minded specs continue with a 1024x768 7.85" display, 2MP rear camera, and a low-resolution 0.3MP front-facing camera. Battery life is listed at just 7 hours thanks to its 3800 mAh battery.
And don't expect to see an updated version of Android shipping with the HP 8 1401; it's running Android 4.2.2 Jelly Bean while the latest version shipping is 4.4 KitKat.
Not all is lost, however, when it comes to the HP 8 1401. HP does give you 25GB of cloud storage for the life of the device. And when it comes to pricing, HP is offering up its latest tablet for just $169.99 in the U.S.