As the cameras on smartphones get better, more and more people are shunning the dedicated variants. You see, it is not practical to carry a camcorder or point-and-shoot camera everywhere you go. After all, you never know when you may want to take a picture or shoot a video -- life doesn't follow a schedule. This is why a smartphone makes a great camera.
The problem is, as megapixels increase and 1080p video becomes standard, storage space fills up very quickly. Many phones still come with a paltry 16 or 32GB of storage, which is not much at all. While some phones offer microSD expansion, the cards have been limited to 64GB for quite some time. Today however, Sandisk announces it has gotten over the hump and delivers the world's first 128GB microSDXC card.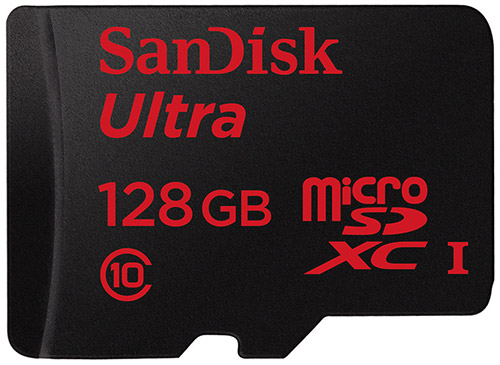 "SanDisk's high-performance 128GB SanDisk Ultra microSDXC memory card will reshape the way users interact with their devices. Until now, consumers had to spread out their content between multiple products because the memory on those devices was not able to hold enough data in one place. This 128GB microSD card is going to be popular as the preferred removable storage option, giving users fast, secure and reliable access to their personal data archives", says Stuart Robinson, Strategy Analytics.
Sandisk says, "compared to when the microSD card format was first launched in 2004 with 128MB of capacity, SanDisk has increased storage capacity of microSD cards 1,000 times over in less than a decade with the 128GB SanDisk Ultra microSDXC card. To enable 128GB of storage on a removable microSD card, SanDisk developed an innovative proprietary technique that allows for 16 memory die to be vertically stacked, each shaved to be thinner than a strand of hair".
This is amazing news for tablet and smartphone users -- if their device supports expandable storage. Sadly, this feature is becoming more rare. However, this would be the perfect complement for the Samsung Galaxy S5, which was announced earlier today.
The card only costs $199.99, which is a great value if you need the space. If you want one, it is exclusive to BestBuy.com and Amazon.com.