Samsung has released a teaser video for its upcoming Unpacked 2014 Episode 1 event at Mobile World Congress, hinting at a few possible features and updates to the Galaxy S5 flagship smartphone. The trailer's release comes at the same time as a leaked image that claims to show the Galaxy S5 will be available in a golden color option when it ships.
The Unpacked trailer quickly switches between images and video clips, with the related central word of each segment being followed by a superscript "5," a direct reference to the smartphone. Some of the words and imagery, such as "wet" and people diving into a pool, suggests some form of waterproofing in the device, while "alive" and "fit" relate to potential fitness features. The slow-motion video sections and the words "selfie" and "focus" are strong hints at new photography features.
A source of GSM Arena supplied the report a screenshot of what is said to be Vodafone's inventory system, with one listing for the Galaxy S5 in Gold. If the image is real, then Samsung could offer the gold color at the Galaxy S5 launch, though it is unclear if it will end up as a standard release or a limited-edition model sold via specific carriers and retailers.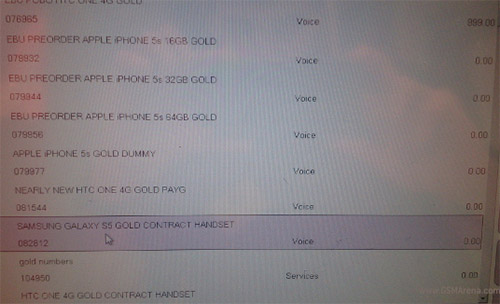 Rumors for the Galaxy S5 range wildly between it having a 1080p or 2K-resolution display, an Exynos 6 or Snapdragon 805 processor, plastic and metal casing, a 16MP or 20MP camera, and a fingerprint reader. There has also been speculation that there will be two versions launched, rather than just one, in a move similar to Apple and its iPhone 5s and iPhone 5c.