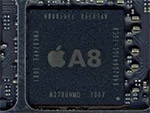 Apple has switched its chip manufacturing orders away from Samsung and TSMC, relying on Amkor Technology and STATS ChipPAC to make the processors for its next-generation iDevices, according to a new report.
It may be hard to grasp that Apple no longer relies on Samsung to make its A-series chips, but this move has been predicted by analysts long ago.
In what can be considered a turn of events, neither Samsung nor Taiwan Semiconductor Manufacturing Company (TSMC) has managed to land orders for the A8 chip destined to be used in 2014 iDevices, including the iPhone 6.
That's if DigiTimes' reporting is to be considered accurate, of course.
According to unnamed industry sources, "Amkor Technology and STATS ChipPAC have each obtained 40% of the total packaging orders placed by Apple for its next-generation A8 processor, with the remaining 20% will be taken over by Advanced Semiconductor Engineering (ASE)."
As readers will notice, there are currently three chip makers rushing to fulfill Apple's orders, and neither of them is the current A7-chip supplier.
And while Samsung appears to have been phased out completely, TSMC remains aboard as a backup supplier, according to the sources.
"Taiwan Semiconductor Manufacturing Company (TSMC), which is believed to have landed foundry orders for Apple's next-generation A8 chip, has also secured wafer bumping orders for the processor as part of its turnkey solution," the same people told the Taiwanese publication.
However, TSMC will only start bulk production of the A8 chip using 20nm technology in the second quarter of this year, the report adds.
Finally, the sources reportedly said that "Apple's A8 chip will be a package-on-package (PoP) SoC solution comprising processors and mobile DRAM in a single package."
So far, Apple has sandwiched only the graphics inside the PoP, but now it seems it wants the RAM in there too.