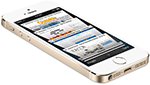 Online job listings indicate that Apple is preparing to kick off sapphire glass manufacturing at its Mesa, Arizona plant, following the acquisition of GT Advanced Technologies.
The first in line to get sapphire glass parts is believed to be the iPhone 6, Apple's up and coming smartphone which should arrive no later than fall 2014.
According to one of the job listings, "The iPod/iPhone Manufacturing Design Engineer is accountable for driving the development of key mechanical manufacturing processes across Apple's worldwide supply base."
"In this highly visible hands-on role as the expert technical member of the Manufacturing Design Team you will have direct frequent communication and collaboration with Apple Industrial Design, Product Design, Manufacturing Design partners and worldwide suppliers," Apple says.
A rumored iWatch product, which many believe will redefine wearable computing, may also employ sapphire glass. The company is said to be eyeing a 2014 release for this product as well, though nothing is really known about its features or the current stage of development.
As for the next-generation iPhone, sources in the Far East have claimed that Apple is preparing not one, but two models. One will sport a 4.7-inch display, while the other will have a 5.7-inch screen, in what would mark Apple's entry in the phablet market.
The Cupertino giant is believed to be switching away from Corning's Gorilla Glass to focus on using its own sapphire glass which provides more scratch resistance and a higher breaking point. Sapphire is second only to diamond when it comes to toughness.
Apple is also said to be employing Liquidmetal for various parts in the next-generation iPhone. A space-age material, Liquidmetal is an amorphous metal alloy with the properties of glass, plastic, and metal all mashed together.