AMD has launched its 2014 A-Series Accelerated Processing Units (APU) range, one which combines the CPU and GPU cores into a single Heterogeneous System Architecture (HSA). The A-Series desktop and notebook chip, codenamed Kaveri, pairs up to four CPU cores and up to eight GPU cores, with HSA helping the chip gain a considerable speed boost.
HSA allows the graphics processors to operate at the same processing level as the CPU cores. This allows programs to use the GPU cores for floating point calculations and other operations, without requiring separate memory or task scheduling. Similar to System-on-Chips (SoC) used in some smartphones, this low-level system integration fundamentally allows for an increase in speed. In November, AMD released tools for developers to take advantage of HSA's benefits, with a view to using it for processor-intensive tasks on servers.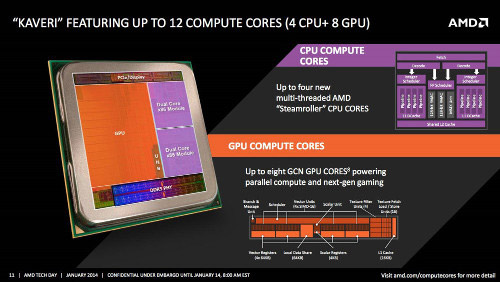 While the new A-Series APUs offer R7 graphics and improved processing, the chips also offer support for Mantle, an API that is said to improve graphics processing for GPUs using the Graphics Core Next (GCN) architecture, and the TrueAudio dedicated audio processor, capable of providing 32 channels of sound. The chips also offer support for Ultra HD resolution displays, with new video post processing enhancements claimed to make 1080p video look better when upscaled to the 4K resolution.
Three chips in the range were detailed by AMD. The A10-7850K, priced at $173, has a max turbo core speed of 4.0GHz and a default speed of 3.7GHz for its four CPU cores, a GPU frequency of 720MHz for its 8 GPU cores, a power consumption of 95 Watts and an L2 Cache of 4MB. The $152 A10-770K is similar in many respects to the A10-7850K, though the GPU core count drops to 6, and the turbo and default CPU frequency dips to 3.8GHz and 3.4GHz respectively. The A8-7600, costing $119, dips the default speed of the A10-770K to 3.3GHz, and uses a maximum of 65 Watts. Both the A10 chips are available today, while the A8-7600 will ship sometime this quarter.