What has until now been rumored as the "Lite" version of the Samsung Galaxy Note 3 is apparently set to see life as the Samsung Galaxy Note 3 Neo. The confirmation comes from a bunch of these leaked internal product positioning documents that we acquired.
The Samsung Galaxy Note 3 Neo looks to be more of a refresh to the Samsung Galaxy Note 2 rather than a dumbed-down version of the Note 3, as it features the Galaxy Note 2's 5.55" 720p Super AMOLED display, 8MP camera, and 3,100 mAh battery. Even the RAM and internal storage are the same at 2GB and 16GB, respectively.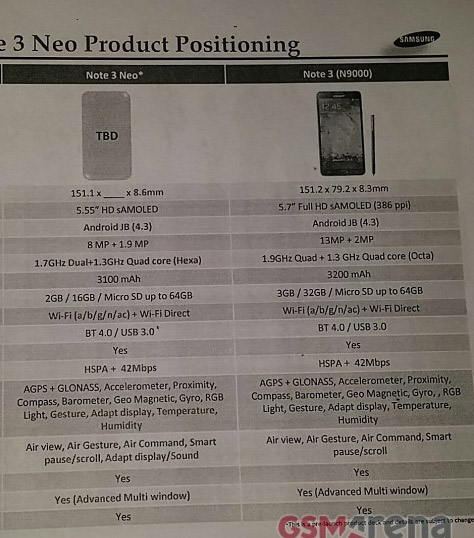 What is interesting, however, is the new 1.7GHz dual + 1.3GHz quad-core (Hexa) processor powering the Galaxy Note 3 Neo. We didn't get much details throughout the document beyond a mere mention of the name and the clock speed of the two sets of cores. It'll certainly be a step up from the 1.6GHz quad-core Exynos found on the Note 2, but the question is how will it compare to the Snapdragon 600 and 800 chipsets out there.
Could it feature Samsung new HMP solution - the one that allows all cores to work simultaneously? It would be an odd move for Samsung to debut their new killer processor tech in a "lite" model device, but this industry has certainly seen stranger things happen.
The good news is that Samsung is bringing over its slick new faux leather back cover from the Galaxy Note 3 (probably why it lends its name), and is a slimmer device than the Note 2 to boot. Also included are all of the Smart Features from the Note 3 and S4, including Air command and Advanced Multi Window.
We've been hearing talk of a new 720p Note variant for quite some time now, and although the leaked promo packet doesn't mention a release or announce date, MWC 2014 next month sounds about right. Be sure to check back with us for all the breaking news on the Galaxy Note 3 Neo!