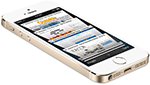 Word has it that Apple really wants the iPhone 6 to deserve its nomenclature, so its working hard to shave off a couple of millimeters off the chassis, to achieve a depth of just 6mm, which translates into just 0.236 inches.
To get us started, here's a rough machine translation of the original Chinese language ET News reporting (an excerpt).
"Apple's next-generation iPhone is currently known to be under development, which is expected to be released this year, the center will be very thin, the thickness of the product claims have emerged. In addition, using the weight of the metal material case reportedly is expected to increase slightly."
The actual thickness of the device is a reported 6mm / 0.236 inches, which is pretty thin even by Apple's own standards. According to sources in the IT industry, Apple wants to achieve half the depth of the iPhone 3GS, which was 12mm thick (0.472 inches).
The chassis will continue to be made from metal, according to the sources, and there will be two iterations, one boasting a 4.7-inch display, the other a screen that measures almost six inches on the diagonal – in essence, a phablet.
There has been immense pressure on Apple and its leadership to increase the screen size of the iPhone, but the Cupertino giant so far hasn't ceded to demand. This time around, it will have to.
For those of you worrying that a thinner iPhone will have a thinner battery, don't worry, things might actually improve on that front rather than take a turn for the worse.
Despite the phones' being thinner, they will also be wider and taller, which actually means a lot more space to spread battery cells inside the chassis. With processors getting smaller and smaller, a phone's depth and weight is essentially being dictated by the battery size.