On the cusp of Monday afternoon Qualcomm new CEO Steve Mollenkopf addressed an eager audience of 2014 Computer Electronics Show (CES 2014) attendees. The question on everyone's mind was, of course, smartphone processors.
I. No New Smartphone Chips
Qualcomm is the king of third party multi-core smartphone processors. Its Snapdragon series claimed an estimated 43 percent of the global demand for multi-core mobile processors, ahead of Apple who designs the processors for its popular iOS devices in-house.
In late 2013 Qualcomm had given word of a pair of exciting upcoming offerings. The first -- the Snapdragon 805 -- brought slightly elevated CPU and graphical prowess, but the big ticket item was the addition of specialty silicon to support 4K imaging and playback. Then in early December, Qualcomm announced the upcoming 2014 availability of the Snapdragon 410, Qualcomm's first 64-bit mobile chip.
Many -- including myself -- were expecting Steve Mollenkopf to share details on the Snapdragon 610 and 810 (the probable title of the higher end companions to the Snapdragon 410) at his CES keynote.
Instead, Steve Mollenkopf largely repeated press announcements from earlier in the day regarding home, television, and automotive products.
After Qualcomm's loaded 2013 CES keynote, which was highlighted by the introduction of the Snapdragon 600 and 800, its 2014 followup felt decidedly flat. Clearly some sort of shift in strategy is in play.
II. Playing Its Hand Close to its Vest
One possibility is that Qualcomm is looking to make CES 2014 its event to sound off on processors outside its bread-and-butter smartphone/tablet series, as well as telecommunications equipment, chipsets, and API technology. If this is the case Qualcomm will likely make most of its big announcements at the 2014 Mobile World Congress (MWC 2014) in Barcelona, Spain late next month. It's very possible MWC 2014 will be the launchpad for the Snapdragon 610 and 810.
Another possibility is that Qualcomm's new leader is shifting gears after his company faced some scrutiny over a slow rollout of the Snapdragon 800 chip, which did not become widely available until nearly three quarters after its CES 2013 announcement. (The first major device to feature the chip was the LG G2 smarpthone in August 2013.)
I asked Steve Mollenkopf about this shift in product announcements, and his comment hinted that at least the latter possibility is highly probable. He replied:
The speed at which the industry is moving is increasing so you're seeing the pace of our roadmap increasing. We feel we ar in a leadership position and it is not necessary to tip our hand quiet as quickly as others. [Given the increasing pace] we are not showing our roadmaps as early as we have historically.
Qualcomm's more secretive approach contrasts sharply from NVIDIA who stuck to the same noisy launch tactics as it did last year, despite getting whipped by the Snapdragon line in the mobile space in 2013.
The Snapdragon 602A is Qualcomm's first try at an automotive applications processor, designed for the growing smart vehicle market. It packs four Krait CPU cores, a Adreno 320 GPU, an on-die Hexagon digital signal processor (DSP), and integrated global navigation satellite system (GNSS) baseband processing, as well as additional high-performance video, audio, and communication helper cores.
Both 3G and LTE communications are supported by the new second generation Gobi baseband modem chip in the accompanying chipset. The chipsets also contains support for 802.11ac Wi-Fi and Bluetooth LE 4.0 connections to up to eight devices.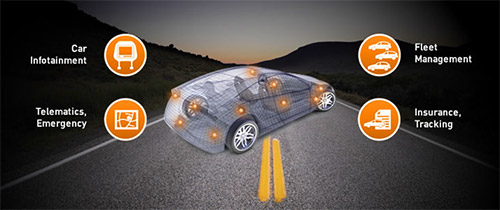 Mr. Mollenkopf commented:
We have historically been very strong in the connectivity aspects of the automobile. Now we are extending into the applications processor space as well with the 602A.
Qualcomm brags that its first generation Gobi product was adopted by 10 million vehicles (mostly luxury models) globally, to date. With the second generation's improved video process and wireless capabilities, the chipmaker flexes its capabilities into new roles, ranging from acting as a communications hub for in-car meetings, to receiving and rendering rich 3D navigation video to in-dash displays.
IV. Snapdragon 802 -- a UHD Television/Multimedia Processor
Another piece of rehashed hardware was the Snapdragon 802, a chip the growing smart TV and set-top box markets, sometimes referred to as part of the "embedded electronics" market. The Snapdragon 802 packs a quad-core Krait processor clocked at 1.8 GHz, plus a Adreno 330 GPU capable of running ultra high definition (UHD) video.
While most TV producers including Samsung and LG appear to be eschewing Google Android OS in favor of their own in-house proprietary Linux-based alternatives, Qualcomm did boast that the new Snapdragon system-on-a-chip (SoC) is optimized for Google's latest builds of Android "Kit Kat".
Given the relative lack of 4K video content, a critical emerging storyline is who can upconvert 1080p content the best to 4K. Qualcomm's answer is the "Hollywood Quality Video" (HQV) processing engine. We've heard this storyline before; upconversion was a critical theme a half decade ago when 1080p was only starting to become mainstream.
Much as 1080p eventually crept into the mobile space, top OEMs like Samsung (the world's largest smartphone maker) have 4K mobile devices on their roadmaps. The Snapdragon 802 may be as much hedging Qualcomm's future tech portofolio as anything else.
Qualcomm is also pushing a new API dubbed "AllJoyn" for streaming media or I/O inputs too and from connected devices. The Snapdragon 802 TVs will support connections with Snapdragon devices in future mobile devices. Qualcomm's initial AllJoyn push will look to especially emphasize AllPlay, a streaming music API that allows you to stream media from your PC, smartphone, cloud storage sites, and internet readio stations.
The company refers to this as part of the "internet of things" (IoT) push, but in the short terms when you strip away the buzzphrase you're left with basically a third party alternative to Samsung's tightly connected mobile devices at TVs (which allow you to use your smartphone as a remote). Microsoft is pushing similar technology with its Windows Phone, which can act as a second screen or control device for the Xbox One via the so-called "Windows Glass" API.
V. 64-Bit, Mirasol, and Smartwatches
During the Q&A talk turned predictably to some of the key technologies and controversies of Qualcomm's 2013.
One audience member asked the new CEO whether he thought that the smartwatch would become a mainstream form factor. Steve Mullenkopf asserted it was "too early to say", and emphasized that the Toq smartwatch (launched by Qualcomm last September) was more of a proof of concept than high volume product.
The CEO stated:
It's often necessary to stimulate technology in new areas, wearables being the new area in this case.
Toq packed a pair of technologies that Qualcomm is looking to promote -- the low-power Mirasol display (which tried and largely failed to attract interest in the e-reader space) and Qualcomm's WiPower wireless charging technology, which is competing with the Qi standard.
Asked about the sales struggles of Windows RT, Steve Mollenkopf expressed support for his partners' platforms. He says that ARM will continue to find a home with Windows. He states:
Whether that's through Windows RT or Windows Phone, we believe in multiple ecosystems.
His comment could futher hint at the rumor that Microsoft is planning to scrap the struggling Windows RT platform in lieu of a scaled up Windows Phone implementation. This is not the first time Qualcomm has been called upon to defend its partner's struggling tablet effort.
VI. Chinese Antitrust Investigation and 64-Bit
In terms of the controversy regarding Anand Chandresekhar's (former Qualcomm executive vice president (EVP) and chief market officer (CMO)) attack on the utility of 64-bit mobile chips and his subsequent demotion, Qualcomm's new CEO made it clear that Qualcomm does very much believe that 64-bit CPU cores were a valuable technology. He acknowledges his time company's timing is "slightly different" from Apple's, but comments, "It will come."
He adds:
You're see that the applications that are being used in the smartphone are also being used in the tablet. 64-bit (due to increasing tablet memory needs) is a very big part of it. The phone and computing are melding together in this very strong opportunity for Qualcomm. When [64-bit Snapdragon technology] comes Qualcomm will drive it as a value leader.
He indicates that his ambitions are to position the upcoming 64-bit Snapdragon 210/410/610/810 chips not just as premium chips, but as mass market products.
Addressing another controversy -- the antitrust investigation by the National Development and Reform Commission, China's antitrust committee, regarding Qualcomm's long-term evolution (LTE) 4G wireless technology -- the new CEO commented: We're obviously cooperating with it... I think we're a very friendly business model for China. We've been in the Chinese market for the last 10 years, and not just in the domestic market, but also providing technology to OEMs to allow export of Chinese products as well.
The new leader -- who was rumored to be a candidate for future CEO of Microsoft -- adds that he is excited about his company's ongoing efforts, cheering:
How can you not be excited about Qualcomm? Everything is going mobile and we're the leaders in mobile.
That is true, in many regards, but Qualcomm will need to deliver aggressively when it does announce the Snapdragon 610 and 810 chips, in order to stave off hungry rivals like NVIDIA.