In the run-up to a wider release of its Google Glass wearable computing device, Google is giving users of its Google Play Music All Access service the chance to join the Glass Explorer Program. The program allows the willing to purchase the head-mounted computer for $1,500, thus joining the other Explorers who have had the device for some time. This is but the latest in a series of widenings of the program, as Google is continually expanding access to the device before it launches perhaps some time later this year.
Google has been sending out the following email message to assorted All Access subscribers, according to Android Central:
Your Chance to Buy Google Glass
With the launch of Google Play Music on Google Glass, we've secured VIP invitations for All Access customers to join the Glass Explorer Program. Interested in rocking out while exploring with Glass? Sign up to receive your invitation below!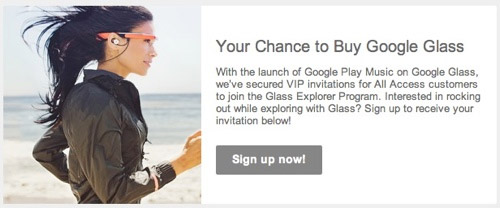 The development comes even as Google has recently added Play Music streaming to the wearable device, as well as an $85 set of Glass earbuds. Google also recently added iOS support to the device, rolling out an iPhone app in mid-December.
The search giant has not specified a launch window for the device, and its hardware is said to still be in development. Google is also working with prescription eyewear makers in order to ensure that there is a glasses-compatible version of Glass when the product does actually ship.