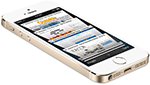 Two videos released by SET Solution attempt to show how Apple could achieve some amazing designs with its next-generation iPhones, by simply cutting down the fat, and curving the display.
The studio deals with visual FX, 3D graphics and animation, concept and design. And they know their stuff, apparently. Both videos depict highly realistic iPhones, one so thin it would probably snap in half if you sat on it, the other featuring a curved display and a flat back.
Both concepts are highly intriguing, but not very doable with the materials used in smartphones today. Nevertheless, the mockups could be accurate for smartphone models five years from now.
Above, I've embedded the "iPhone 6 Curve" concept, and below you have the flatter iPhone Air mockup which looks pretty stunning, but not much in line with Apple's design culture.