We're already hungry for more information about the successor to the Samsung Galaxy S4, which is presumably going to be dubbed the Samsung Galaxy S5, and Rightware has offered up a benchmark result that could be from the new phone.
The handset that posted the score is listed as the Samsung SM-G900F, which Rightware says could be the Galaxy S5. The device scored a 3303.88 in BrowserMark, good for third place out of all handsets tested.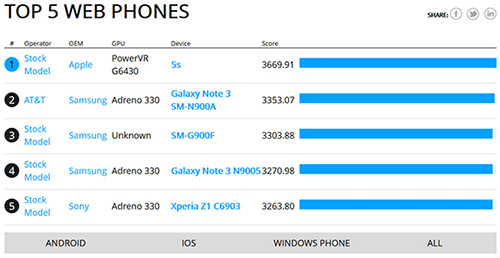 The device is running a slightly older browser, Chrome 28, and Rightware noted that if it had the up-to-date Chrome 31, it may have leapfrogged the second-place Galaxy Note 3 and challenged the iPhone 5S.
The phone is expected to launch in March with a 64-bit Exynos processor, a bendable OLED display, 2K display, 16MP camera, and Android 4.4 (KitKat).