Some of the phone's hardware specifications have already leaked online, yet we haven't had the chance to take a look at its outer case, and we might not be able to do so for a few months more either.
However, we can imagine what the smartphone could look like, and this is exactly what the guys over at simonlyradar.nl did when coming up with a concept design for the Samsung Galaxy S5.
Featuring a thin body and a large display, which is also bendable in some models, the Galaxy S5 concept smartphone could easily win user's hearts if it ever came to the market in this form.
In case you are not in the loop with the rumored specifications of the smartphone, you should know that it might sport a 5-inch Super AMOLED display capable of offering a 2k resolution (2560 x1440 pixels), the same as the concept device in the photo above.
The "flex" model features a 5.2-inch screen, which is also bendable, as mentioned before. Inside, there's a 2.7GHz quad-core CPU paired with 3.5GB of RAM, which should be able to deliver the performance levels that users desire from a flagship phone.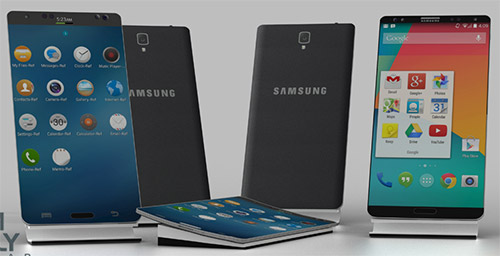 Moreover, the concept phone features 32/64GB of internal memory, along with a 16-megapixel camera on the back, which should be able to record videos in 4k resolution, while also offering the possibility to shoot slow-motion videos at 160fp, full HD.
There is also a 2.5-megapixel front camera, along with a 3500 mAh battery, and Google's Android 4.4 KitKat platform on top, paired with the TouchWiz user interface. The phone could also run under Tizen OS, its designers note.
One other appealing feature of the smartphone is its aluminum body, which might be one of the elements on the specs list of the actual Galaxy S5 as well.