The newest version of Samsung's Galaxy S line of flagship devices may well have appeared in online benchmark tests. Fone Arena on Wednesday pointed to new results from GFXBench, showing an as-yet-unannounced Samsung device with the model number SM-G900S. If the device shown off were to prove to be Samsung's next flagship handset, it would signal a huge push on the part of the manufacturer to differentiate its gadgets, as the handset in the benchmarks appears to sport a 2K resolution screen.
The device in the benchmarks sports a 2K display outputting at 2560 x 1440. On a 5.25-inch display, that would work out to a pixel density of 560ppi, far beyond just about any device on the market.
Other specs for the device include a quad-core Snapdragon 800 processor clocked at 2.5GHz, as well as an Adreno 330 GPU. The device is also said to be running Android 4.4 KitKat, though it is uncertain whether Samsung would have successfully ported the new Google operating system to its devices already, as KitKat was only released a short time ago.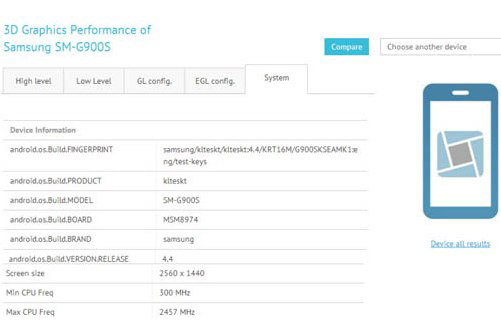 Android devices appear on the verge of a spec war, as more than one manufacturer is said to be considering 2K screens for its smartphones in the next year. The year after that may see the display resolution wars step up even further, as Samsung has hinted that it could roll out 4K displays in 2015.
In addition to high resolution displays, manufacturers are upping the resolution on their cameras as well. Samsung is said to be developing a 20MP camera sensor for inclusion in its 2014 devices.
Next year's Samsung flagships may also see increased processing power. Samsung has promised 64-bit processing for high-end Galaxy devices in the next year It may take some time for their full consumer benefit to emerge, though, as Android does not currently support 64-bit processing.