Google's Andy Rubin has stepped away from Android the operating system in favor of another type of Android: robots.
According to a new article from The New York Times, Andy Rubin -- the Google executive responsible for the Android operating system -- has set his sights on developing real humanoid robots that will one day perform functions in the areas of manufacturing and retail.
Google's robotics group is not looking to create robots for consumer use, much like its X lab that creates products like Google Glass and the autonomous vehicle. Instead, the robotics effort will have one main goal (at least for now): get products to the market faster and sell, sell, sell.
Rubin said that there are many potential applications for robotics, such as in manufacturing and logistics markets. Rubin would like to see the robots help with electronics assembly and compete with the likes of Amazon in the retail market.
The robotics group could also automate portions of a supply chain that goes from the factory to the companies that ship products to the customer's front door. For instance, Google could automate parts of its Google Shopping service, which delivers packages in urban areas.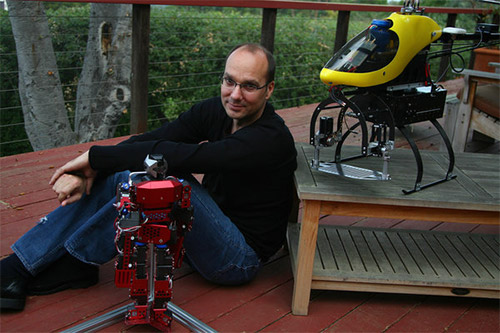 There are also "far-out" applications, such as having a robot deliver packages to your door from an automated Google vehicle. But that's not on Google's radar for right now.
The new Google group focused on robotics is by no means just an idea, though. The tech giant has acquired seven robotics and artificial intelligence start-up companies in the United States and Japan over the last half-year in order to create the robots.
These companies include Schaft, a small team of Japanese roboticists who developed a humanoid robot; Industrial Perception, a start-up in the U.S. that developed computer vision systems and robot arms for loading and unloading trucks; Bot & Dolly, a creator of robotic camera systems that were recently used to create special effects in the movie "Gravity"; Autofuss, which focuses on advertising and design; Holomni, a design company that makes high-tech wheels; Meka, maker of humanoid robots and robot arms in San Francisco, and Redwood Robotics, which also creates robots and robot arms in San Francisco.
"I feel with robotics it's a green field," said Rubin. "We're building hardware, we're building software. We're building systems, so one team will be able to understand the whole stack."
Back in March of this year, Rubin stepped down as Android chief at Google. Since the resignation of that particular position, he's been working with Google co-founders Sergey Brin and Larry Page to start the new Google robotics group.