ISPs monitoring traffic spikes noticed a huge one just minutes after the official release of iOS 7, with reports from some providers that data usage doubled compared to normal levels. Late on Friday, the new iOS version overtook iOS 6 as the most popular, less than 48 hours after the upgrade first became available. Analytics company Mixpanel estimates that more than 130 million users had updated their devices within the first 10 hours of availability, out of a potential iOS 7-eligible base of 415 million.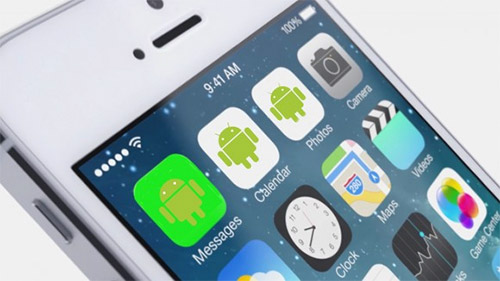 At its current clip, the new OS will equal or even surpass the estimated based of current-version Android users (versions 4.1 and higher) over the weekend. While Android has a larger user base than iOS overall, only about a third of its users can update or run the latest versions, known as "Jelly Bean."
By Google's own estimates -- which were recently recalculated to ignore any users on very old versions -- around 287 million users are on Android 4.1.x, with only 66.7 million on 4.2.x, the most recent version. The combined total of Jelly Bean users -- 353.7 million -- is smaller than the estimated 415 million "active" iPhone, iPod touch and iPad iOS users that are eligible to run iOS 7 (Apple TV users are not included in these totals, since Apple TV doesn't run the same version of its OS as the other devices).
The spikes, reported by The Guardian in the UK, focus on British ISP reports and show that demand hit its peak about 3.5 hours after the official release. This would have been around the time Apple servers began to recover from the initial wave of downloaders as users struggled in the first few hours to download the free iOS upgrade, which ranged in size from 750MB to 1.4GB depending on what device was being updated.
The latest data from Mixpanel, taken late Friday night, indicates that more than half of the 93 percent of iOS users that were running iOS 6 have already switched, suggesting that more than 200 million users worldwide are already on the new mobile operating system.
At one point in the initial surge, a British Telecom (BT) spokesperson reported that the provider was seeing traffic of over 200 Gigabits per second, the highest the company has ever recorded. Lonap said that overall high-use traffic, which averages up to 30 Gigabits per second, spiked to just under 60Gb per second late Wednesday evening as the upgrade became available, and raised the daily peak time traffic to nearly 40Gb per second on Thursday.
The paper also reported that Germany's Berlin Internet Exchange saw traffic rise precipitously -- more than 10Gb per second over normal traffic levels -- as iOS 7 came online. Data from Akamai, a company that distributes and manages Internet backbone traffic, suggested that overall worldwide usage jumped 12 percent above normal levels as the download became available.