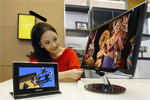 Currently, smaphone is the most important application for AMOLED panels and has been fueling shipment growth. Digitimes predicts AMOLED handset panel shipments to grow to 363 million units in 2015, up 332% from the number in 2011. In 2015, AMOLED handset panel shipments will account for 88.7% of total AMOLED panel shipments and 79.5% of total AMOLED panel output value.
Handset AMOLED panel market growth has mainly been driven by strong support from South Korea-based Samsung Electronics, who has been eager to roll out smartphones with lighter and thinner form factors and higher-resolution displays.
TV is the second largest application for AMOLED panels and their shipments in 2015 are likely to account for 12.4% of total AMOLED panel output value, Digitimes Research predicts. In addition, LG Display and Samsung are expected to continue expanding their OLED TV panel capacity in 2014 and 2015, and hence by 2016, the TV segment's share of AMOLED panel output value is expected to increase significantly.
The key for OLED TV market demand to grow is to increase yields. Currently, the low yields for the panels are preventing system prices in the end market to go down. Digitimes Research expects yields to increase to the point where firms can obtain profits around 2014-2015. As the global LCD TV market faces saturation, looking for a blue ocean is a must for TV vendors. OLED TVs are higher-priced products that may keep their TV-related businesses growing in both revenues and profits, added Digitimes Research.