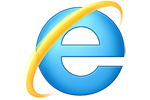 Following accusations by the European Commission in October of 2012, the regulatory agency plans to fine Microsoft for continued refusal to offer a choice of browsers consistently in the Windows operating system. According to Reuters, sources familiar with the matter claim that the fine is expected before the end of March -- and it may be a significant sum, given that it is the second time that Microsoft has failed to adequately comply with a Commission order.
According to the European Commission, the latest violation of the order was between February 2011 and July 2012. Microsoft blamed the violation on a technical problem, and has claimed that has put measures in place to prevent it from happening again.
The Microsoft board of directors noted the "error", given Windows 8's original lack of a browser choice screen, as mandated by the European Commission. The board slashed CEO Steve Ballmer's bonus last year in October, in part because of the lack of the screen.