"We're still 1 percent to where we should be. I feel a deep sense of responsibility to try to move things along. Not enough people are focused on big change. Part of what I'm trying to do is take Google as a case study and really scale our ambition such that we are able to cause more positive change in the world and more technological change."
"I have a deep feeling that we are not even close to where we should be."
Those sound like the words of a CEO of a company struggling technologically. But surprisingly the come from Larry Page, the current CEO of Google -- the maker of the world's most used search engine, most used online advertising service, and most used smartphone operating system platform.
In a new interview with Fortune, Mr. Page emphasizes Google's philosophy on how it differs from competitors. He says that most rivals who have issues with Google are more worried about themselves than their end users, where as at Google it's all about providing the best experience for the end user, which is built on the premise of openness. By providing Google services on as many platforms as possible (even those of arch-nemesis Apple), Mr. Page says customers will have access to the best options on the market.
As for Apple locking out Google Maps and other apps from iOS 6, he simply comments, "We try pretty hard to make our products be available as widely as we can. That's our philosophy. I think sometimes we're allowed to do that. Sometimes we're not."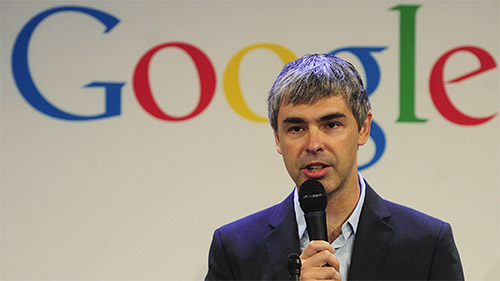 he CEO accuses Apple (and its late CEO Steven P. Jobs) as being overly fixated on Google. Reiterating his comments from a previous interview, he says that Apple's legal campaign against Google is partly to rally the company against its competitor.
But he says that if you're fixated on your competitor, you're not looking forward at your own future. He remarks, "I don't like to rally my company in that way because I think that if you're looking at somebody else, you're looking at what they do now, and that's not how again you stay two or three steps ahead."
To him, Google has no real "competitors". He comments, "I feel my job is mostly getting people not to think about our competition. In general I think there's a tendency for people to think about the things that exist."
The interviewer asks about Google's so-called "70-20-10 model" in which 70 percent of the company's spending is devoted to search/advertising, 20 percent is devoted to apps (like Google Docs), and 10 percent is devoted to experimental efforts (like self-driving cars and Project Glass).
He says that Google still mostly follows that model, but that some projects fall on the border of categories. He comments, "So where would you put Android? It's probably in the 70 in terms of impact -- the monetization is at an early stage."
As for Google Plus, he says the social network is faring "pretty well" and is "improving". He suggests that with Plus and other services users may not have received quite what they initially expected, but that Google's philosophy is that users must get accustomed to services before making judgements.
As for how long he will remain CEO at Google (Eric Schmidt was chief for 10 years), he says, "I don't know. It seems impossible to predict."