Reports on Microsoft's Surface tablet have been a mixed bag lately, but All Things D is pretty clear about its position: the demand and sales just aren't there.
All Things D recently spoke with Boston-based brokerage firm Detwiler Fenton about Microsoft's Surface RT tablet. The verdict? Microsoft better get its tablet out in other stores or it's going to sink.
"Lack of distribution is killing the product," said Detwiler Fenton. "Mixed reviews and a $499 starting price tag certainly don't help, but lack of retail exposure at Best Buy and others is severely depressing sales."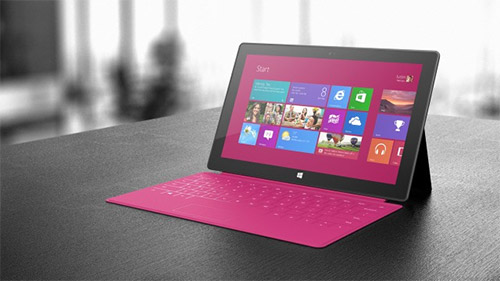 Right now, customers can only buy the Surface RT tablet at Microsoft Stores. The problem with this is that there's only 31 of them, with another 34 smaller Microsoft kiosks around the U.S.
Due to this lack of presence in major retailers, Detwiler Fenton estimates that Microsoft will only sell 500,000 to 600,000 Surface RTs in the December quarter. This is a strong hit to previous estimates of 1 million to 2 million.
Recently, a pair of reports from both CNET and The Seattle Times showed differing views on how Windows 8-based touchscreen tablets, convertibles and laptops are faring. CNET spoke with IDC and IHS iSuppli analysts, who said retailers were having trouble keeping them on shelves due to high demand. However, The Seattle Times begged to differ, echoing Detwiler Fenton's concerns: there just aren't very many Windows 8 tablets out yet, and those that are are impossible to find. However, other Windows 8 tablets are sold in major retailers like Best Buy; not just Microsoft Stores.
Microsoft's Surface Pro is expected to be released in January, which will feature the Windows 8 Pro operating system instead of Windows RT for ARM-based tablets.