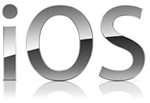 Apple's iOS mobile platform remains the most effective at ad monetization among all mobile operating systems, responsible for nearly as much ad traffic as all other operating systems combined. This according to Opera, which published its Q3 report on the State of Mobile Advertising this week. Opera found that iOS devices account for more than half of all mobile ad revenue, with the iPhone alone accounting for more than a third. The study's findings illustrate the continuing importance of Apple's platform in the mobile web sector, as no competing platform even approaches Apple's figures in the sector according to Opera.
The State of Mobile Advertising report looks at information collected from Opera's subsidiaries, including AdMarvel, Mobile Theory, and 4th Screen Advertising. It collects data from more than 10,000 sites and applications, accounting for 40 billion ad impressions per month and $400 million in projected revenue pushed to mobile publishers for this year.
Apple's iOS platform yielded an effective cost per mille -- a calculation of the ad revenue generated by a banner or campaign per 1,000 impressions -- of $1.64, well above the global average eCPM of $1.31. The next highest single platform was Research in Motion's BlackBerry platform, with an eCPM of $1.06. Google's Android platform saw an eCPM of $0.88.
iOS accounted for 46.37 percent of total mobile traffic according to Opera, as well as 58.4 percent of total ad revenue. The iPhone alone outperformed any other platform, with 30.43 percent of traffic, 34.38 percent of revenue, and an eCPM of $1.48. The iPad had the highest eCPM of any individual device at $4.42.
Opera's report found that social networking sites were the biggest drivers of impressions overall, but they did not yield the highest revenues in the quarter. Sports sites accounted for the highest percentage of revenues, followed closely by computer and electronics sites and then music video and media sites.