HP CEO's decision to cut the company up has the Board reportedly considering a pink slip for their chief.
It must seem like déjà vu all over again for embattled Hewlett-Packard Company (HPQ) CEO Léo Apotheker. According to Bloomberg, HP's board is considering parting ways with Mr. Apotheker only 11 months after they brought the German onboard.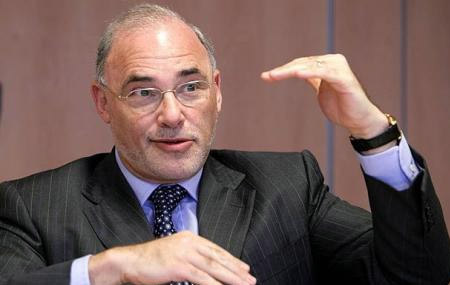 I. A Troubled Past
Just over a year ago, he sat before the board at German software maker SAP AG, who were contemplating essentially firing him from that company's CEO spot. At SAP, Mr. Apotheker lasted only 10 months. During that time he steered SAP into its first loss in seven years, faced backlash for failed price increase attempts during the recession, clashed with unions, and allegedly oversaw the theft of intellectual property from Oracle Corp. (ORCL) that cost SAP $1.3B USD in damages.
In the end SAP opted to move ahead with the plan to get rid of the troubled leader, declining to renew Mr. Apotheker's contract and seeking a replacement. Mr. Apotheker was forced to resign. Soon after he packed his bags and head to a new home in California, and a new job as CEO of the world's largest computer maker, HP.
Mr. Apotheker seemed an odd fit for HP, having had virtually no consumer hardware experience -- HP's biggest business segment in terms of unit sales. The move seemed odder still, given his recent termination from SAP and lack of familiarity with the American business market.
II. Apotheker Looks To Cut Up HP
But for better or worse HP hired Mr. Apotheker to replace the departing Mark Hurd, who despite performing brilliantly from a business standpoint had been terminated by the board for sexual harassment accusations from a former contractor.
For the first several months of his tenure Mr. Apotheker was remarkably quiet, though he slashed sales outlooks twice between November and June. Then in August he dropped a bombshell, revealing that he was killing HP's first modern tablet the company's smartphone lineup, which it purchased from Palm, Inc. Even more dumbfounding, he announced HP's intention to spin off its core PC business, which had long driven the image and sales.
Under his plan HP would essentially become SAP 2.0, focusing on the company's higher margin server and business software business. To assist that goal, HP bid $10.3B USD on British software giant Autonomy, Corp. Plc. (LON:AU). Many experts consider that bid several times what the company was really worth, and expressed astonishment that Mr. Apotheker's new firm would overpay that much.
The wild moves plunged share prices deeply downward, to the point where they're currently 47 percent lower than when Mr. Apotheker assumed his position. It didn't help matters that HP cut its outlook yet again.
III. Fired Again? End of the Line May be Near
For many, Mr. Apotheker's approach to restructuring HP was seeming increasingly like the old comment by the wife of the former General Secretary of the Communist Party of the Soviet Union, Mikhail Gorbachev, that Gorbachev went about reforms like removing rotting leaves off of a cabbage and that by the time he was done, nothing was left.
Indeed some investors were wondering what would be left if Mr. Apotheker was allowed to transform HP from a consumer products maker into a would-be competitor to Oracle and International Business Machines, Inc.
A former HP chairman remarked that HP was working to commit "corporate suicide".
Soon the shareholders had enough. A group of shareholder recently filed suit against HP for Mr. Apotheker's wild moves, claiming he defrauded investors by failing to disclose his risky plans.
The report that HP is considering Mr. Apotheker's dismissal closely files the news of that lawsuit, which was filed late last week. Reportedly, the board is considering offering the CEO position to former eBay, Inc. (EBAY) chief Megan Whitman on an interim, or even potentially long-term basis.
Ms. Whitman brings a decade of leadership as the CEO of the top internet auction site. Under her leadership the company successfully went public and grew small business sales. The company did reportedly overpay for Skype Technologies SA after getting in a bidding war with Google Inc. and Yahoo! Inc., which led to criticism. However, eBay did end up turning a profit on the purchase, when Microsoft decided to pay even more for Skype, boosting the return on eBay's remaining stake. Otherwise the only real blemish on Ms. Whitman's record is her failure to reduce revenue declines at eBay.
Ms. Whitman has diverse executive experience, having worked at The Walt Disney Company (DIS), Dreamworks, The Procter & Gamble Comp. (PG), and Hasbro, Inc. In January she joined HP's board after failing in her bid to become the governor of California.
At this point many investors simply say anyone would be better than Mr. Apotheker. News of the potential leadership change has sent shares of HP stock soaring 9 percent today on the New York Stock Exchange.
If Mr. Apotheker departs, there's a strong possibility that he'll take with him the plans of the spinoff. A webOS revival could even be in store, though that may be unlikely given recent layoffs.