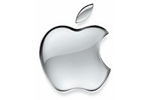 Apple has become the largest OEM semiconductor buyer in the world, according to research firm IHS iSuppli. Data from 2010 shows that Apple bought parts worth $17.5 billion, up a massive 79.6 percent from the $9.7 billion the company spent in 2009. At the time Apple was already in third place, behind HP and Samsung, having risen from sixth place in 2008.
An IHS analyst, Wenlie Ye, attributes Apple's ranking to "the overwhelming success of its wireless products, namely the iPhone and the iPad." Both are said to devour "enormous quantities" of NAND flash memory, a situation compounded by the use of flash in most iPods. Apple's consumption may only worsen in 2011, as IHS is forecasting an Apple/HP gap of $7.5 billion, compared with $2.4 billion for 2010.
IHS remarks that despite appearances, Apple and HP are very different companies. Whereas HP spent 82 percent of its 2010 semiconductor budget on computer parts, Apple spent about 61 percent on wireless products, namely the iPhone and iPad. The disparity favored Apple, since the smartphone market grew 62 percent last year, and tablets rose 900 percent, fueled almost exclusively by the iPad. PCs, IHS observes, grew by just 14.2 percent.