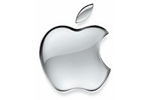 Needham analyst Charlie Wolf in a research note on Friday gave a detailed breakdown showing the Mac carving significantly into Windows PC sales in the normally stable corporate world. In business, Mac shipments grew about 66 percent in the first quarter of 2011 where the total PC market advanced 4.5 percent. Apple now had three percent of corporate PCs, a figure it hadn't seen since spring 1997.
The largest gains were in both very large (enterprise) and small businesses, where Apple was up 94.7 percent and 80.4 percent respectively. In all cases it was significantly above the wider market.
Government, often one of the hardest segments for Apple to breach, was also seeing rapid growth, Wolf said. While starting from a much smaller point, its sales were up 155.6 percent where the overall market was growing by just 2.3 percent. School sales were virtually flat for Apple with just a one percent gain, but the broader market shrank by 6.5 percent, suggesting Apple still gained share.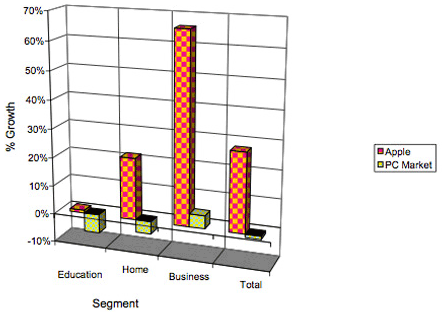 Home computers, Apple's core market, saw it move up 21.6 percent where the industry dropped 4.4 percent.
Wolf noted that Apple now appeared to be in a sustained push in the corporate world. While not directly explaining the push, he noted that Apple had a trio of halo effects active from the iPad, iPhone, and iPod along with more retail stores. Most of this effect has usually been at home, although Apple in its latest fiscal results call said that 75 percent of the Fortune 500 was testing or actively using the iPad, possibly creating an effect in corporate environments.
The Needham study added a level of regional sales and noted that Mac sales as a whole were widely outpacing the field and, in some cases, countering a trend towards shrinking sales. Shipments across much of the Windows PC field were plunging 10 to 20 percent in the US, Europe, and Japan, but Apple saw growth of at least eight percent in Europe and nearly 70 percent in Asia. Europe was a highlight for Apple as it now had over eight percent of market share, a new high in a market that has usually been resistant to Macs.