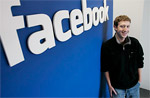 TIME has selected the CEO of the social networking giant 'Facebook' as Person of the Year 2010 for "changing how we all live our lives."
Mark Elliot Zuckerberg, CEO and co-founder of Facebook, was born in 1984, which is the same year the Macintosh computer launched. He grew up with the technology, mastered it and has created a social networking empire with nearly 600 million users. He has been chosen as Person of the Year 2010 by TIME for "connecting half a billion people and mapping the social relations among them; for creating a new system of exchanging information; and for changing how we all live our lives."
TIME further detailed why it chose Zuckerberg, saying that he is at the very center of the social changes our world is experiencing. The creation of Facebook has altered the way we communicate with one another entirely and has expanded our social circle. TIME quoted Virginia Woolf, saying "On or about December 1910, human character changed." It was noted that a century later, transitions are taking place once again.
"We are living through another transition," said the TIME article. "The way we connect with one another and with the institutions in our lives is evolving. There is an erosion of trust in authority, a decentralizing of power and at the same time, perhaps, a greater faith in one another. Our sense of identity is more variable, while our sense of privacy is expanding. What was once considered intimate is now shared among millions with a keystroke."
According to scientist Robin Dunbar, humans have the widest social circle of any primate species with about 150 people in their circle. Our ancestors may have only encountered 150 people in their lifetime, but now, thanks to social networking, humans are capable of exceeding that number and beyond.
Not only does Facebook expand our social circles like never before, but it also taps into two human characteristics that never change: narcissism and voyeurism. This, according to TIME, is mainly why this social phenomenon is prospering faster than any other social advancement.
"In a single day, about a billion new pieces of content are posted on Facebook," said the TIME article. "It is the connective tissue for nearly a tenth of the planet. Facebook is now the third largest country on Earth and surely has more information about its citizens than any government does. Zuckerberg, a Harvard dropout, is its T-shirt-wearing head of state."
Zuckerberg was chosen amongst four other runners-up, including The Tea Party, which is a political movement that began in the United States in 2009 to sponsor nationally and locally-coordinated protests against the government; Hamid Karzai, the 12th and current President of Afghanistan who became an important political figure after the Taliban government was removed in 2001; Julian Assange, editor-in-chief for WikiLeaks, which was a whistleblower site that leaked government documents onto the Internet to shift regime behavior, and the Chilean Miners, who were trapped at the San Jose copper-gold mine in the Atacama Desert by Copiapó, Chile from August 5, 2010 until October 13, 2010.