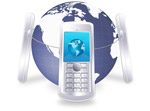 The European Commission believes cell phone subscribers in European Union countries pay high prices because of the varied application of EU telecoms rules, says a Tuesday report. The charges for a one-minute call range from 0.04 euro (about $0.05) in Latvia to 0.24 ($0.30) in Malta. The disparity is reportedly keeping the EU from having a true single market and contributed to zero growth in the last year.
EU Digital Agenda Commissioner Neelie Kroes said member states have to do more to ensure telecoms rules are properly implemented in order to grow the mobile broadband market in a tough economic time.
According to the Commission, some national regulators control wholesale broadband markets while other countries limit their regulation to just wire-based networks.
Source: electronista