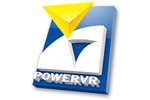 Smartphones will have graphics on par with a PlayStation 3 in three years, Imagination Technologies said in an interview on Wednesday. The company estimates for Gizmodo that long-term future mobile PowerVR graphics cores in development today and will not only produce much more 3D detail but will do so at 720p, whether through an HDMI output or on similar-resolution displays that should be readily available at the same time. Multi-core graphics are likely to be a central ingredient of the new technology.
Before then, the company has a number of more publicized interim steps that are expected to improve not just the performance of graphics but overall speed for devices themselves. The upcoming SGX545 will be more aware of multi-core system processors and will support OpenCL to offload some non-graphics tasks and speed up supporting programs.
PowerVR's current centerpiece device is the iPhone, which many now expect could use the SGX545 as soon as the anticipated mid-year iPhone update. However, the Motorola Droid, Palm Pre and other high-end phones already use some variant of the SGX core and could see their own sequels get similar upgrades.
Source: electronista