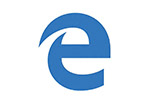 Microsoft launched Edge browser in Windows 10 with much fanfare, saying that it finally has a powerful rival for the other apps in this software category, but statistics show that Google Chrome is not in any way threatened by the arrival of the modern Internet Explorer successor.
Data provided by Quantcast in the United States shows that Google Chrome has a market share on Windows 10 of 70 percent, which is pretty impressive given the fact that previously, Firefox was considered a tough nut to crack for the Mountain View-based search company.
It turns out, however, that Google won the fight with Mozilla, so Firefox dropped to the second place with nearly 15 percent, while Edge browser, Microsoft's all-new app, is third with some 12 percent of the market.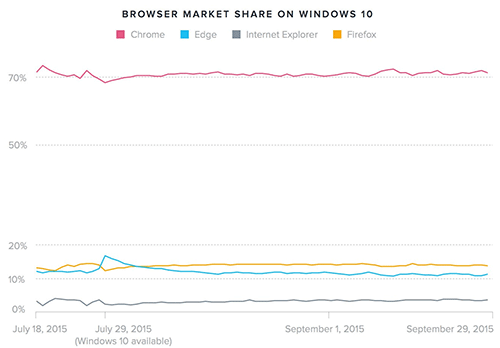 Windows-wise, Google Chrome still leads the market with a little below 70 percent, but as you can see in the charts, its performance was full of ups and downs, especially because of the arrival of Edge browser. But in this case, Microsoft's browser is at around 2 percent, with Internet Explorer still having approximately 18 percent of the market.
The analyst firm believes that Microsoft's new Windows 10 can't help Edge compete with Chrome directly and no matter the improvements the company makes in its browser, it's still impossible to stop Google's domination in the browser market on the long term.
"The Windows 10 rollout seems to be a success for Microsoft. More and more users are using Windows 10 every day, and most have shifted off of the old Internet Explorer," Quantcast wrote.
"However, that movement hasn't entirely been towards Edge, with a number of users choosing Chrome instead. Microsoft may be able to make further inroads into the browser market with Edge, but it'll take more than a new operating system to unseat Chrome's dominance."
Indeed, Microsoft is working on some pretty big updates for Edge browser, and the most important is the addition of extensions, which should arrive in the app sometime this year. Edge will work with Chrome extensions and Microsoft plans to make them compatible with little to no code changes.