While all Windows Phone fans are fully focused on what's to come for their favorite mobile operating system and hope to get Windows 10 for phones preview builds as fast as possible, new stats show that this particular platform is slowly declining across the world.
Net Applications, the same company that provides us with market share figures for desktop operating systems and browsers every month, claims that Windows Phone is currently powering only 2.57 percent of the mobile phones on the planet, down from 2.66 percent the month before.
Although these new figures do show a decline, they're actually a sign of progress, as Windows Phone had slowly increased its market share in the last 6 months before having reached the record 2.66 percent in February.
В ноябре 2014 года Windows Phone занимала 2,13%. За три месяца она выросла на 0,53%.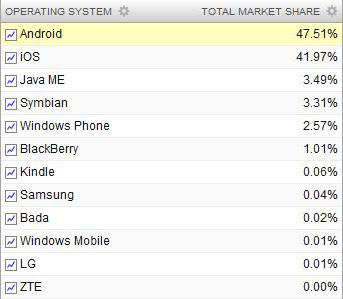 In November 2014, for instance, Windows Phone had a global market share of 2.13 percent, so in only 3 months it managed to gain 0.53 percent, despite the painful wait for Windows 10.
As for the rival platforms, Net Applications claims that Android is still the number one mobile operating system across the world with a share of 47.51 percent, followed by iOS with 41.97 percent. BlackBerry is still behind Windows Phone with 1.01 percent.
Windows 10 for phones should launch together with the desktop sibling in the second half of the year, but previews are already available for download as part of the Windows Insider program.