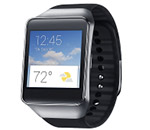 The wearables band market is beginning to take-off. Shipments of such devices soared 684% in the first half of this year compared with last year, according to analytics firm Canalys. The leader in the smart wearable band market happens to be Samsung, thanks to three new products it introduced in the second quarter of this year. The Samsung Gear 2, Samsung Gear 2 Neo and the Samsung Gear Fit were all released in the first half of the year. And Samsung started off the second half of the year by releasing its Android Wear flavored Samsung Gear Live timepiece.
Canalys will be tracking the Gear Live during the remaining months of the year, along with the LG G Watch and the upcoming Motorola Moto 360. The wild card here is the Apple iWatch, although there are some indications that Apple will be putting off the introduction of its smartwatch until next year. Some manufacturers have put their wearable band plans on hold, just to see what Apple does with the iWatch.
Although Samsung is on top of the smart wearable band market, Canalys analyst Chris Jones says that the company needs to improve its sell-through figures so that it doesn't have to resort to heavy discounting to move product. Following Samsung in the smart wearable band category is Pebble. The premium Pebble Steel has allowed the company to keep its momentum as it expands its application offerings. Sony comes in third place.
"Smart wearable bands need tremendous advances across the entire component ecosystem to achieve multiple days of battery life. Smart wearable bands should not necessarily resemble watches, but should instead adhere to their own unique design constraints"-Daniel Matte, analysts, Canalys.
Smart wearable bands are those that accept the installation of third party apps. In the basic wearable band business, Fitbit and Jawbone are numbers one and two, respectively. Both firms expanded globally in the first half of the year. The battle for third place in this niche is between Nike and Garmin. The former has been focusing more on the software aspects of the market, and pulling back on the hardware end of the business. The latter has entered the business with its new basic wearable band, and is already off to a good start.