Back in 1989, the first firewall was introduced by the AT&T Bell Labs. It performed stateful packet inspection based on technology developed by engineers from Digital Equipment Corporation (DEC) a year before.
However, things are not as clear as they appear as far as the father of the firewall is concerned because many researchers have contributed to what evolved into today's network security solution that offers protection both as a software and as a hardware-based system.
One thing is certain, though, the concept and the technology, no matter how rudimentary, were introduced in the late '80s.
To celebrate a quarter of a century since the first variants of firewall, McAfee created an infographic with the most important events in the development of the technology, since 1989 until 2014.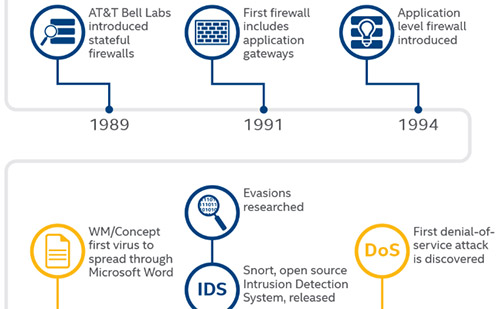 The first step in the evolution of the technology was in 1991, when application gateways were included. Three years later, the application level firewall became available.
Intrusion detection systems (IDS), technology similar to firewalls, were released in 1998, which coincides with the starting to research evasion techniques.
Events that shaped the firewall as it is today, include discussions of next-generation firewalls, virus infections, such as the one with Conficker and introduction of native clustering for increased performance.