Controls and Connectors
After issuing by Google of Android 3.x it became very easy to define the system version installed in the tablet. The economic Android 2.2/2.3 models still had a number of touch buttons under the screen, while Android 3.x units didn't have it. Android 4.0 model still had the design with all the supplementary buttons on the system panel, that's why there are no any buttons on Tab 2 front panel.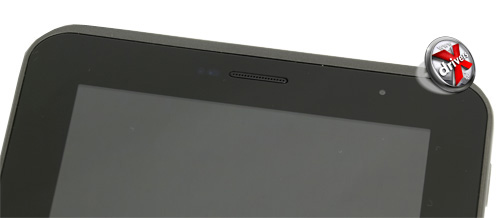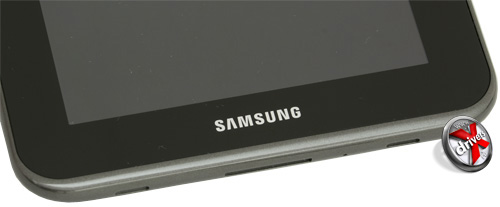 Instead, the central upper part has the speaker with dense grid, mentioned above, as well as light and proximity sensors. The bottom part has just the manufacturer name drawn.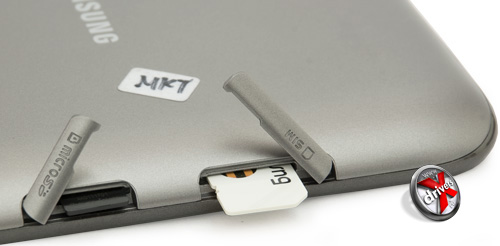 The left side has connectors for the microSD memory card and SIM-card. Our attempt to insert the SIM-card failed completely, it fall inside and the device demanded to turn to the service center. By the way all the connectors have the plugs, which is very convenient as the connectors won't be getting dirty because of dust or other pollutions.

The right side has the place for two double volume control buttons and switch on/off buttons. They stand out from the body and have convenient location precisely for the forefinger. It is quite convenient to push the buttons.

The upper side has just the 3.5 mm connector for headset and earphones.

The tablet lower part has cuts for the speakers from the both sides. One shall mention that the speakers give quite good volume parameters and sound quality for a tablet PC unit. The central part has 30-pin connector to switch to a computer or a charger.
The back cover has the inscription "Samsung" and the camera's eye in the upper left corner. By the way we should mention that Tab 2 has no flash.