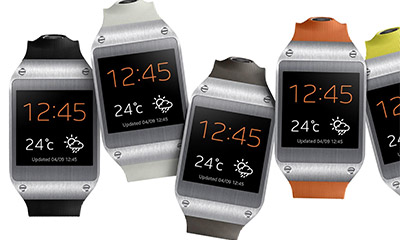 The first smartwatch from Samsung - almost a smartphone with a small body
The first smartwatch from Samsung - almost a smartphone with a small body

A cost-effective, 7-inch tablet PC from a renowned manufacturer

Expensive, still conceptual embodiment of a presenter with mouse function.
The Samsung Company has become the first huge manufacturer which gave its response to the production of iPad in 2010. The "counter-move" was expressed in the form of the new 7-inch tablet computer Galaxy Tab. The new device reminded of a big phone and had Android 2.2 system installed with a bit improved shell. Since that time new tablet Android 3 and 4 versions have already been manufactured, thus it is not surprising that the company renewed its product range. Galaxy Tab 2 7.0 is already the third mass 7-inch tablet computer of the company.

The smartphones of the Samsung Company are famous for their combination of quality, features and comparatively reasonable price. That manufacturer tries to compete in all the price categories including the lowest-price one. A year ago the phone Galaxy Mini was presented in that category. In the first place the phone stood out for its price. For now the Galaxy Mini 2 is already being produced. Definitely, it won't become the cheapest phone from the Galaxy product range, but all its parameters have been improved. The novelty will deserve the name "the best novelty" if the price is affordable.

The Samsung Company is on up-grade today. It is swiftly working up the market of mobile phones and smartphones, and its profits enable it to create unique and high-quality products as well as to experiment with new technologies. Pico-projectors are one of the relatively new trends of the South Korean manufacturer. A pico-projector is a miniature of a regular projector. This device is notable for its small size and can be compared to a packet of cigarettes. It is able to display an image of 100" in diagonal, though. There appears a question: whether it's going to be of a good quality? This article answers it and tells what else the pico-projector Samsung SP-H03 is capable of.

Those people whose childhood fell on the "happy" nineties, at least most of them, remember what the "hunt" for innovative at that time computer games was like. They could be called "computer" only at a stretch since the majority of the middle class in our country used to do with available games devices like Dendy or SEGA, cartridges for which cost as much as half of the device. Then there appeared computers with diskettes and disks. The latter kind of data storage device is still popular, but is it going to stay dominant long? The producers of Blu-ray are seriously concerned about movies brought online. But is the same going to happen to games? Judging by the latest events, it is very likely. Besides, the ideas of certain individuals have gone further – you won't have to download a game, just get an image from the Internet that has been drawn on a remote server. It already exists and works now. And this article tells how it works and where it exists.

HTPC is the most topical issue when it comes to discussing the home theatre system. Let's assume that a DVD payer that costs about $60 doesn't satisfy everyone even though it can play back a score or two of formats. It's much better to connect a computer to an LCD TV, which enables to gain greater independence in case new codecs appear and to improve the quality of the displayed image. And it's a lot easier to update hardware stuff. But a full-fledged computer costs a lot even if you cut down on some "extras". A single-purpose player is cheaper and more compact. And the price depends on its functionality. A device that provides the basic scope of playing back digital content and doesn't cost much at the same time is at issue in this article. We are happy to introduce Apacer AL460.